IDM, Techno, Electronica, Algolectro, … ?
Definitely something to watch, move and have fun with.
Lucretio (Berlin, DE)
Timo Hoogland (Utrecht, NL)
Norah Lorway (UK, CA)
Loopier (Barcelona, ES)
MergeAcq (Frankfurt, DE)
SineWaveSurfer (Karlsruhe, DE)
It will be a long night packed with sound, visuals and code.

Ratinger Hof, Ratinger Str., Düsseldorf
Door: 20:00 / Stage: 21:00
EUR 12,- / EUR 8,- (reduced)
ARTISTS coding live on stage
LUCRETIO
(Berlin/DE)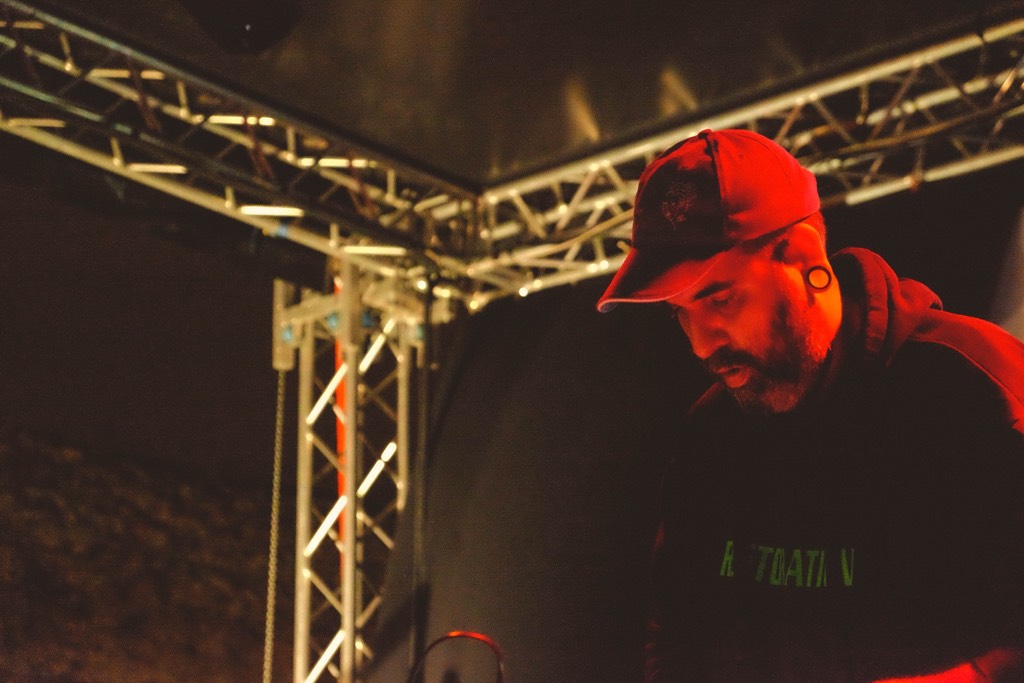 BIO
Domenico Cipriani a.k.a. Lucretio has been releasing raw minimalist dance music for more than a decade and with his label Restoration he has played an active role in the vinyl resurgence of the late 2000. Throughout his career he has been to Europe, Asia and North-America.
After his graduation at the S.A.E. Institute of Barcelona, he has further developed his research on social semiotic with an M.A. in Linguistics at the University of Padova, focusing on an evolutionary approach to explaining language change. He has discovered Smalltalk with Symbolic Sound Kyma in 2016. In 2019, he presented at the >>Sonic Experiments<< festival at the ZKM an interactive performance based on network distributed Open Sound Control. He has been live coding with Kyma and Pharo since April 2020.
PERFORMANCE
PacaDancing in a Lighthouse is an uptempo danceable live coding performance with the LiveCoding package he has been developing for Pharo Smalltalk as a front-end for the sound generated in Kyma.
TIMO HOOGLAND
(Utrecht/NL)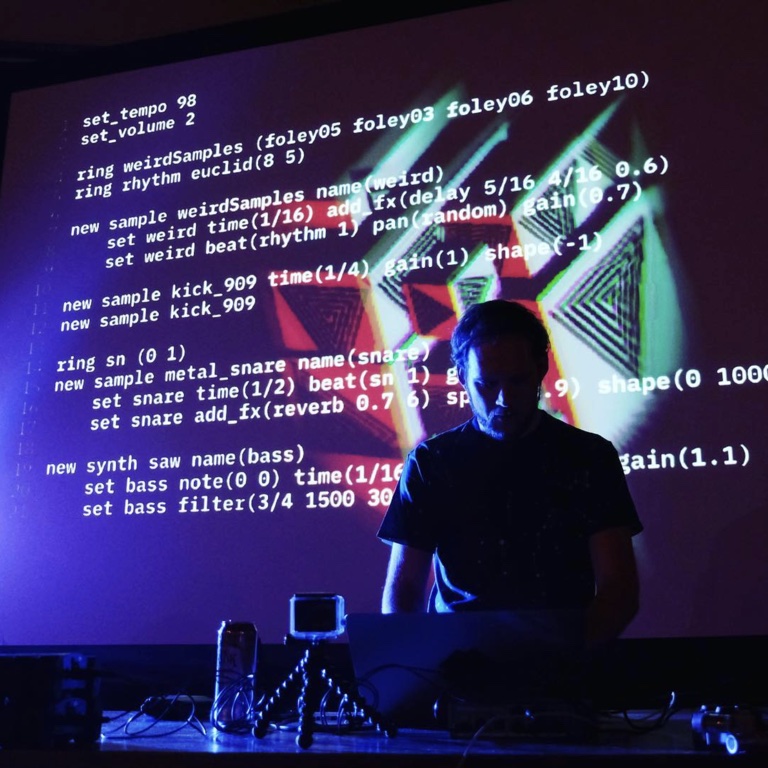 BIO
Timo Hoogland is a computational artist, live coder, music technologist and educator from the Netherlands. He livecodes experimental electronic dance music and develops generative audiovisual compositions, installations and performances inspired by his fascination for mathematics, science and nature. Timo graduated from the Masters of Music Design at the HKU University of the Arts Utrecht in 2019, where he developed the livecoding environment Mercury. In 2020 he released Amalgam, a performance together with Saskia Freeke. The piece ./drum.code premiered during the Ars Electronica garden in Lugano (CH) 2021, a performance combining drums and live coding. In 2022 he performed PRISM at Beyond Quantum Music in Belgrade (RS). He build site-specific av-works inspired by bioluminiscent lifeforms and photosynthesis at the Uncloud Festival 2020 and during Vonk Festival 2021. He worked on various audiovisual performances together with artists such as Marieke Verbiezen, Gerri Jäger, Monodeer, Evelien van den Broek, Anne Le Berge and Anne Veinberg. Timo has performed at various events and festivals such as ICLC, ADE, Gogbot, Tec-Art, Ars Electronica Garden, Droidcon Turin, React Amsterdam and Digital Arts Zurich. As an educator he teaches creative system and sound design at the HKU Bachelor of Music Technology.
Norah Lorway
(UK/Canada)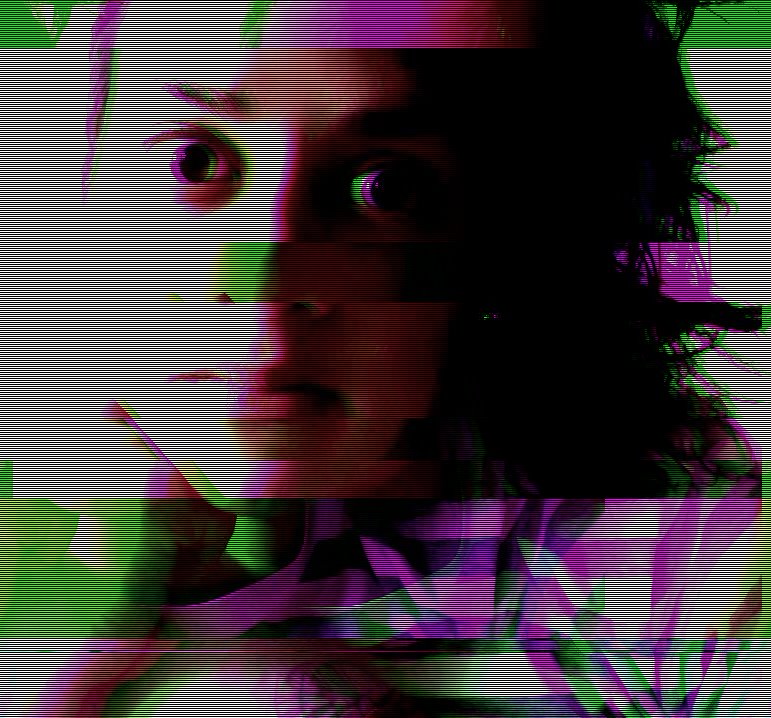 BIO
Composer, programmer, and artificial intelligence researcher, working with sound, computer science and digital healthcare. UK/Canada based.
Assistant Professor in Artificial Intelligence and Digital Music Production at Toronto Metropolitan University where she is a Co-Director and founder of the Studio for Creative Artificial Intelligence (SCAI)
http://norahlorway.com
https://soundcloud.com/eeldisc/norah-lorway-flux?in=eeldisc/sets/men-an-toll
https://vimeo.com/427921595
https://vimeo.com/791363888

LOOPIER
(Barcelona/ES)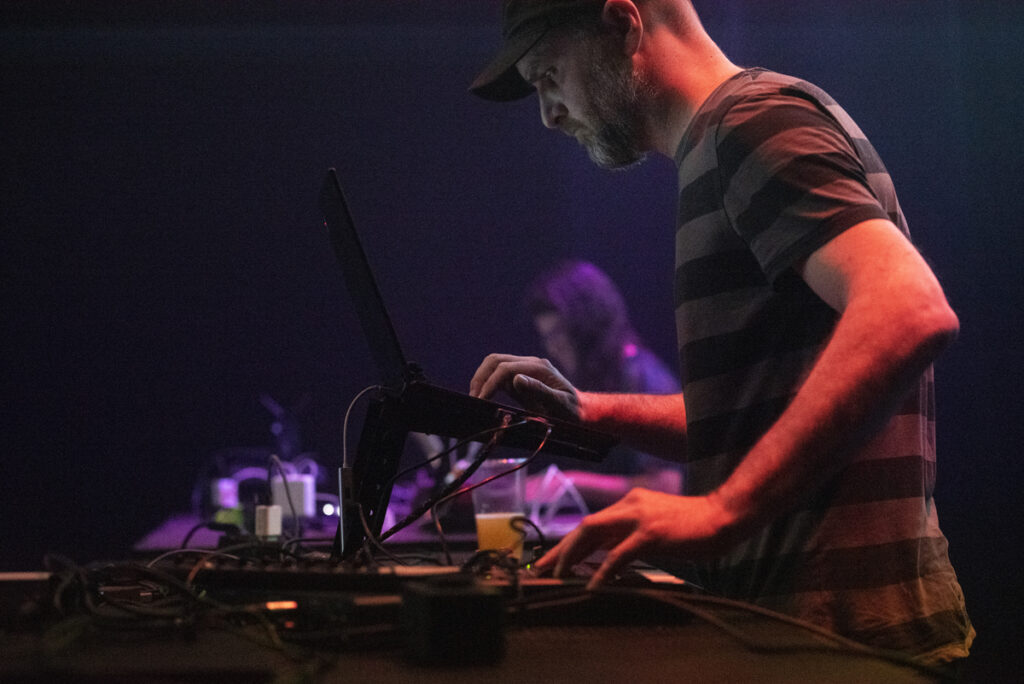 BIO
Loopier (Roger Pibernat) is an illustrator and musician with a severe tinkering itch. He was part of the Barcelona Laptop Orchestra and co-founded the Wú collective, with whom he has developed electro-acoustic instruments, interactvie installations, audiovisual performances and experimental software. He developed the live coding dialect for SuperCollider Živa; the Superfm synth for TidalCycles; and, teaming up with programmer and artist Glen Fraser, they have developed Animatron, a playground for live coded 2D animation. He is currently an active member of the live coding community in Barcelona. In all of his inventions, he tries to find ways to connect apparently unrelated systems, making things talk.
PERFROMANCE
Spiritual Music for Cyborgs was composed by techno-biological organisms to sooth the soul of bio-technological organisms.
https://www.rogerpibernat.com/
http://wucollective.com
MergeAcq
(Frankfurt/DE)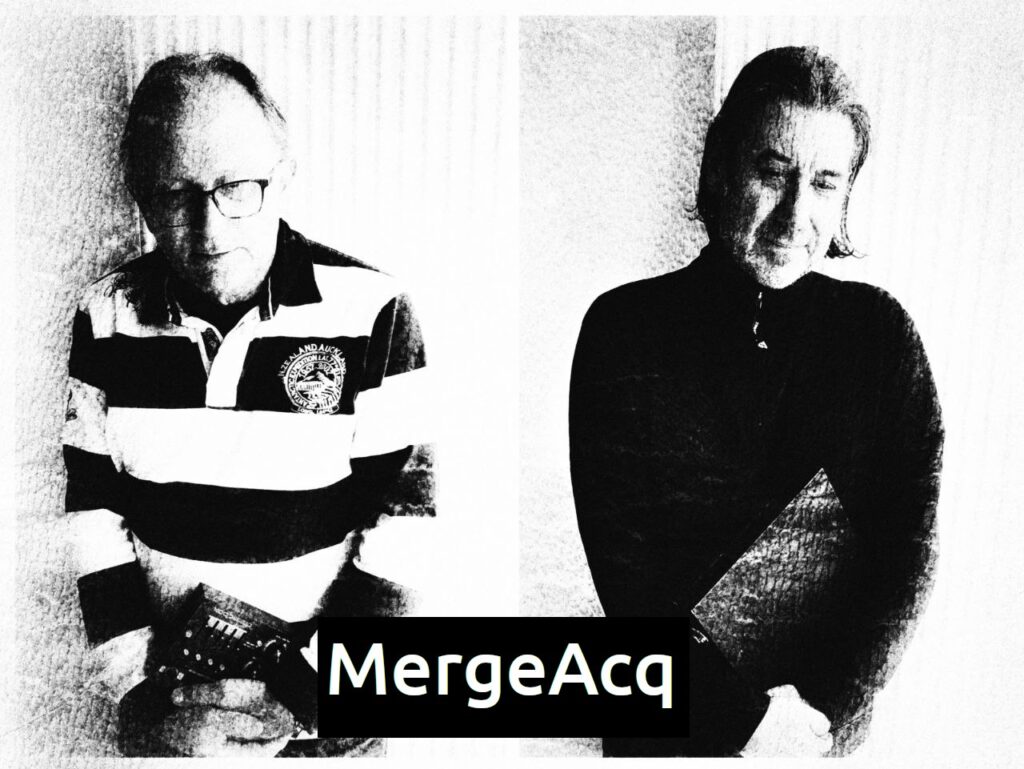 MergeAcq is a project that combines poles: two musicians, two musical worlds and two production platforms. MergeAcq acquire and mix samples from classical and electronic music with polymetric sequences using live coding and analog synthesizers.
The duo is located in Frankfurt, Germany. Their music is based on rhythms and melodies that stack and nest, shift and transform, from slow to fast, from melodic to strange – always at the interface of electronic pop and modern classical music.
Sometimes the structures and soundscapes merge, sometimes they clash abruptly, contract violently and irreconcilably, and repel each other again in rhythmic pulsation.
For streaming and live events MergeAcq use, besides TidalCycles-LiveCoding, various synthesizers, drum machines and other electronic tools to construct their soundscapes. In essence, MergeAcq is about deconstructing musical material from mixed sources, modeling it arbitrarily and putting it together in surprising new ways. (Frankfurt 2023)
Youtube: https://bit.ly/40OPvC7
SINEWAVESURFER
(Karlsruhe/DE)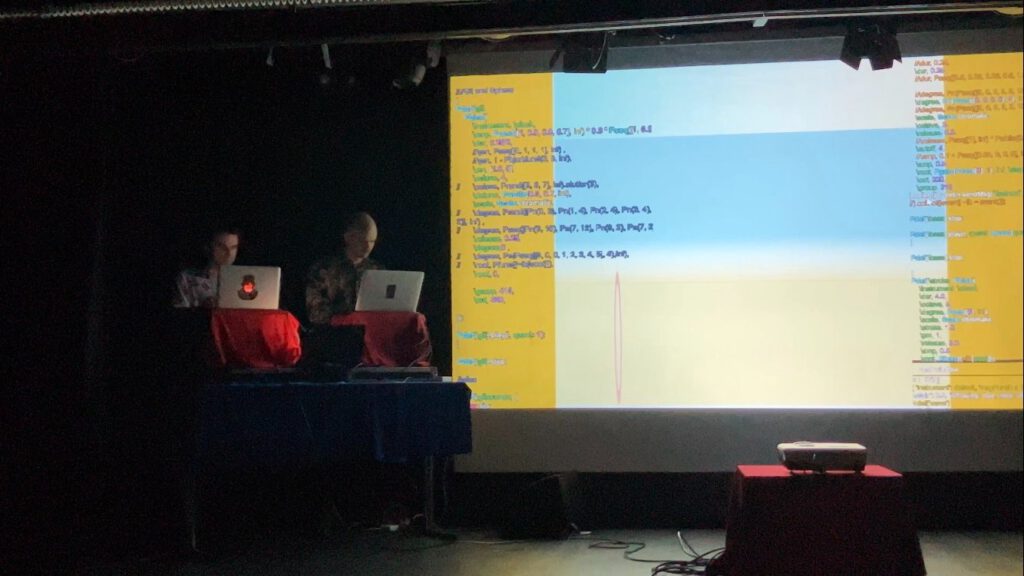 Anselm Weber & Jakob Schreiber

PERFORMANCE
Electric Beach – Synthetic waves break on vast beaches filled with eletric sand. SineWaveSurfer will start their next surf trip through the endless seas of sound synthesis.